Image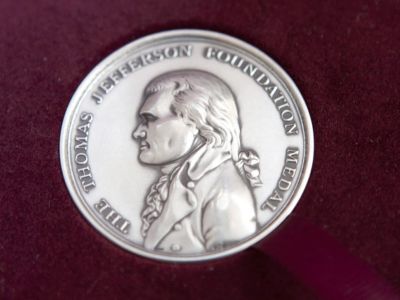 Image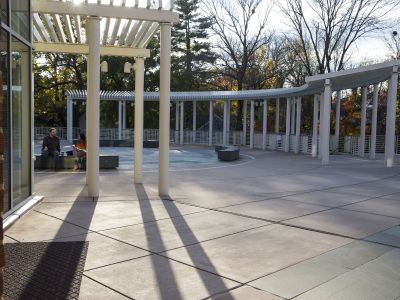 Thomas Jefferson's birthday, April 13, has been celebrated at the University of Virginia since the University's first academic session. Locally, the celebration is known as Founder's Day. 
On Founder's Day, UVA and the Thomas Jefferson Foundation at Monticello join together to present the Thomas Jefferson Foundation Medals to recognize achievements of those who embrace endeavors in which Jefferson, author of the Declaration of Independence and third U.S. president, excelled and held in high regard. The Thomas Jefferson Foundation Medals in Architecture, Citizen Leadership, Global Innovation, and Law are the highest external honors bestowed by the University, which grants no honorary degrees. This year's recipients are:
Architecture: Andrew Freear, the Wiatt Professor and director of Auburn University Rural Studio. Freear lives in rural Hale County, Alabama, where for nearly two decades he has directed a program that questions the conventional education of architects, through which his students have designed and built more than 200 community buildings, homes, and parks in their under-resourced community.
Citizen Leadership: Jason Rezaian, an award-winning writer and journalist for The Washington Post. A first generation American of Iranian origin, Rezaian became The Post's Tehran bureau chief in 2012. In 2014, he was arrested on unsubstantiated charges of espionage. Freed after 544 days of imprisonment, Rezaian has since used his platform to fight for the freedom and the liberty of others, championing the stories of other journalists imprisoned for doing their jobs and fellow Americans held hostage abroad solely because of their citizenship. His reporting continues to elevate the stories both of Iranians and those around the globe.
Law: Menaka Guruswamy and Arundhati Katju, lawyers who in 2018, won a landmark case before India's Supreme Court that struck down a 157-year-old law that made gay sex illegal. The pair, who have become heroes of the LGBTQ community in their country, are currently spearheading a marriage equality case to be heard by the Supreme Court of India this spring.
In addition to a formal dinner at Monticello, the medalists will be recognized at a luncheon in the Dome Room of the Rotunda. It is at this luncheon where Jim Ryan, president of UVA, and Leslie Greene Bowman, president and CEO of the Thomas Jefferson Foundation, will present this year's recipients with the Thomas Jefferson Foundation Medals. While on Grounds, each medalist will give a free public lecture in their field of expertise. Additionally, the Jason Rezaian, the Citizen Leadership medalist, will be the featured keynote speaker at Monticello's  commemoration of Jefferson's birthday on April 13 at 10 a.m. on the West Lawn of Monticello.
Lastly, on Founder's Day, the University plants a tree in celebration of a member of the UVA community who has made significant, lasting contributions to University life. This year's recipient announcement is forthcoming. 
---
Past Recipients of the Thomas Jefferson Foundation Medals
Thomas Jefferson Foundation Medal in Architecture

1966       Mies van der Rohe
1967       Alvar Aalto
1968       Marcel Breuer
1969       John Ely Burchard
1970       Kenzo Tange
1971       Jose Luis Sert
1972       Lewis Mumford
1973       Jean Labatut
1974       Frei Otto
1975       Sir Nikolaus Pevsner
1976       I.M. Pei
1977       Ada Louise Huxtable
1978       Philip Johnson
1979       Lawrence Halprin
1980       Hugh A. Stubbins
1981       Edward Larrabee Barnes
1982       Vincent Scully
1983       Robert Venturi
1984       H.H. The Aga Khan
1985       Leon Krier
1986       James Stirling
1987       Romaldo Giurgola
1988       Dan Kiley
1989       Paul Mellon
1990       Fumihiko Maki
1991       John V. Lindsay
1992       Aldo Rossi
1993       Andres M. Duany & Elizabeth Plater-Zyberk
1994       Frank O. Gehry
1995       Ian L. McHarg
1996       Jane Jacobs
1997       Jaime Lerner
1998       Jaquelin T. Robertson
1999       Lord Richard Rogers
2000       Daniel Patrick Moynihan
2001       Glenn Murcutt
2002       James Turrell
2003       Tod Williams & Billie Tsien
2004       Peter Walker
2005       Shigeru Ban
2006       Peter Zumthor
2007       Zaha Hadid
2008       Gro Harlem Brundtland
2009       Robert Irwin
2010       Edward O. Wilson
2011       Maya Lin
2012       Rafael Moneo
2013       Laurie Olin
2014       Toyo Ito
2015       Herman Hertzberger
2016       Cecil Balmond
2017       Yvonne Farrell and Shelley McNamara
2018       Sir David Adjaye Obe
2019       Kazuyo Sejima and Ryue Nishizawa
2020       Marion Weiss and Michael Manfredi
2021       Francis Kéré
2022       Kenneth Frampton

Thomas Jefferson Foundation Medal in Citizen Leadership

2007    Alan Greenspan
2008    John W. Warner
2009    Warren M. Christopher
2010    Joseph Neubauer
2011    Peter G. Peterson
2012    Jessica Tuchman Mathews
2013    Wendy Kopp
2014    James H. Webb, Jr.
2015    John Lewis
2016    Marian Wright Edelman
2017    Alice Waters
2018    Morgan Carrington "Cary" Fowler Jr.
2019    Sylvia Earle 
2020    Rajiv J. Shah
2021    Not awarded due to Covid-19
2022    Sherrie Rollins Westin

Thomas Jefferson Foundation Medal in Global Innovation

2016    Gordon Moore
2017    N. R. Narayana Murthy
2018    N/A
2019    N/A
2020    Ted Turner
2021    Not awarded due to Covid-19
2022    N/A

Thomas Jefferson Foundation Medal in Law

1977       Carl McGowan
1978       Henry J. Friendly
1979       Paul Abraham Freund
1980       Erwin N. Griswold
1981       Lewis Franklin Powell Jr.
1982       Warren M. Christopher
1983       Lord Justice Scarman
1984       Griffin B. Bell
1985       Warren E. Burger
1986       William H. Webster
1987       Sandra Day O'Connor
1988       Edmund S. Muskie
1989       Sam Nunn
1990       Collins J. Seitz
1991       Robert M. Morgenthau
1992       Marian Wright Edelman
1993       William H. Rehnquist
1994       Richard A. Posner
1995       Lloyd N. Cutler
1996       Rex Lee (posthumously)
1997       Ruth Bader Ginsburg
1998       Alan K. Simpson
1999       Elaine R. Jones
2000       Guido Calabresi
2001       Mortimer M. Caplin
2002       Seth P. Waxman
2003       Anthony M. Kennedy
2004       J. Harvie Wilkinson III
2005       Patricia M. Wald
2006       Ronald M. Dworkin
2007       Anne-Marie Slaughter
2008       Antonin Scalia
2009       Peter J. Neufeld and Barry C. Scheck
2010       Janet Napolitano
2011       Cynthia D. Kinser
2012       George Mitchell
2013       Robert S. Mueller III
2014       Kenneth R. Feinberg
2015       Joan E. Donoghue
2016       John Gleeson
2017       Loretta Lynch
2018       Frank H. Easterbrook
2019       Carlton Reeves
2020       Sonia Sotomayor 
2021       Not awarded due to Covid-19
2022       Stephen G. Breyer